Goji-bessen, ook wel genoemd wolfberries . Talloze goji-bessenproducten zijn op de markt verschenen,
veelbelovende jeugd, een goede gezondheid, kankerbestrijdende vaardigheden en een verhoogde zin in seks. Er zijn veel
verschillende producten met goji bessen of goji bessen "extract" (sap). Traditionele Chinese volksgeneeskunde
gebruikt ze om verschillende kwalen te genezen. Goji-bessen worden al lang in verschillende Aziatische gerechten gebruikt
als ingrediënt of garnering. Naast het eten van de Goji Berries Wolfberries , kun je ook de
goji bessen sap. Het is vooral populair in de regio's waar de goji-bessen worden verbouwd en kunnen zijn
gecombineerd met thee om een ​​tonicum te maken.
Productnaam: G oji bessen
Goji-stijl: weinig pesticiden
Grade: A Grade
Grootte: 180 ~ 1000 Gr Ains / 50G
Kleur: dik rood
Kenmerken : Medicinale, eetbare en gezonde waarde
Droogtype: Lage luchtdroging
Max. Vocht (%): 13%

Opslag: droge en koele plaats

Houdbaarheid: 2 jaar
Merknaam: Yishaotang
Certificering: QS, BCS Organisch certificaat
Teelttype: Common
Teelttype: Open lucht
Aanverwante producten: Conventionele goji-bes Organische goji-bes
Gezonde Ningxia Goji-bes
Verpakking en verzending exporteren
Binnenverpakking: 5kg / aluminiumfolie zak buitenste verpakking: 20kg / doos grootte: 51x37x29cm
Fabriekslevertijd: na aanbetaling 12 werkdagen
CIO-certificaat: KWALITEIT & HOEVEELHEID & GEWICHT CERTIFICAAT, FYTOSANTISCH CERTIFICAAT, SANITAIR CERTIFICAAT, GEZONDHEIDSCERTIFICAAT
Vertrekhaven: haven van Tianjin of haven van Qingdao
Laden: 11,5 Ton / 1 * 20 GP-container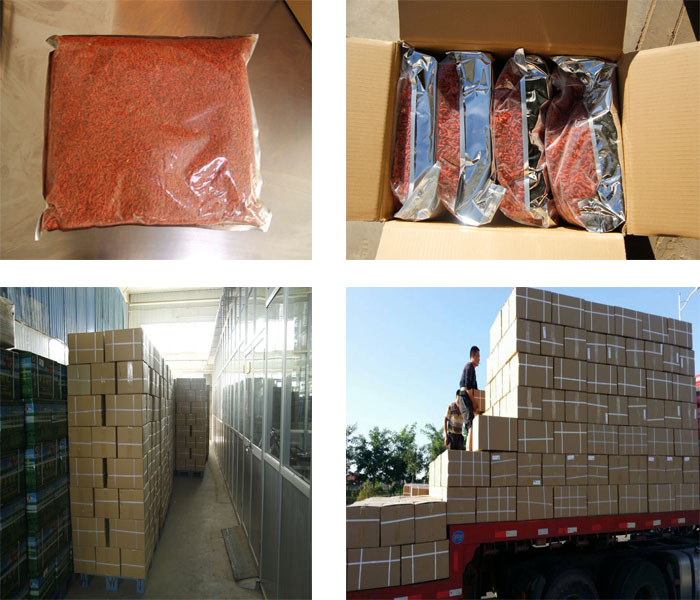 VRAAG: Productie en bezorgen
ANTWOORD: Na storting, goji bessen aan te leveren aan de 1e fase (productie, verpakking, in de fabriek te inspecteren, etc), vervolgens 2 e fase is CIQ is geïnspecteerd en CIQ certificaat doorlooptijd één week (7 dagen), 3e fase arrenge we lading zending naar de vertrekhaven. Vaartijd doorlooptijd per bestemming poort in verschillende landen (zoals Noord-amerika lijn, Zuid-amerika Lijn, EMP, Azië, Australië, etc)
Product Categorie : Rode Goji-bessen > Gedroogde Goji-bessen