Goji-bessen komen uit China, waar ze worden vereerd vanwege hun gezonde eigenschappen: ze zitten er hoog in
antioxidanten en bevatten meer vitamine C dan sinaasappels en meer bètacaroteen dan wortels,
In China worden goji-bessen op grote plantages gekweekt en worden ze per ton geoogst. De delicate bessen
worden met de hand geplukt; ze zijn erg vergankelijk. Ze kunnen worden geplukt als ze rijpen - als ze rood worden en
smaak zoet, ze zijn klaar om te eten. Gooi ze op granen of meng ze in een drankje, net als bosbessen
of aardbeien. Vers of CIQ-certificaat Gedroogde Goji-bessen kunnen worden gebakken in muffins of koekjes, zoals
rozijnen of veenbessen; ze bevriezen ook goed.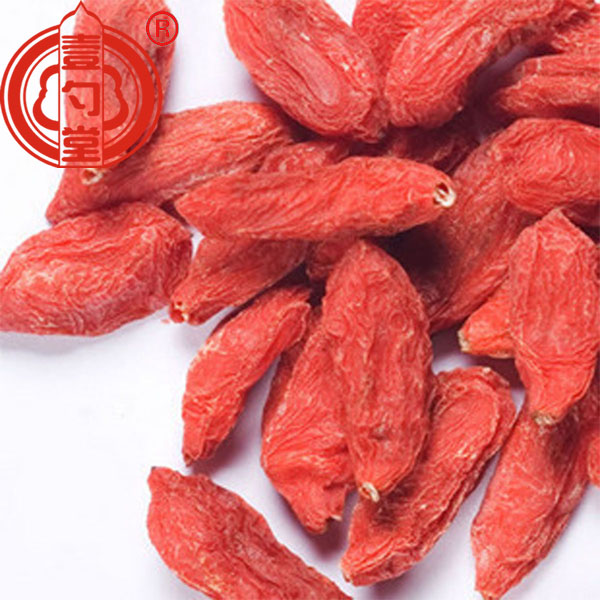 Voedingswaarde van GojiBerry
Gedroogde goji-bessen bevatten calorieën, koolhydraten, vet, voedingsvezels, suiker en eiwitten. De mineralen en vitamines gevonden in goji-bessen omvatten natrium, kalium, calcium, ijzer, zink, selenium, vitamine C, caroteen, thiamine, riboflavine, luteïne, lycopeen, zeaxanthine, polysacchariden, betaïne en peptidoglycanen.
Productnaam: G oji bessen
Grade: A Grade
Grootte: 180 ~ 1000 Gr Ains / 50G
Kleur: dik rood
Kenmerken : Medicinale, eetbare en gezonde waarde
Droogtype: Lage luchtdroging
Max. Vocht (%): 13%

Opslag: droge en koele plaats

Houdbaarheid: 2 jaar
Merknaam: Yishaotang
Certificering: QS, BCS Organisch certificaat
Teelttype: Common
Teelttype: Open lucht
Aanverwante producten: Conventionele goji-bes Organische goji-bes
Processtroomschema voor Goji Berry
① Grondstoffenbronnen ( volgens gestandaardiseerde planten Goji-bes in eigen basis → Plukken → Drogen ) → awR aw-materiaalacceptatie [ Toetsbedieningspunten ] → ③ Drogen → ④ Sorteersortering → ⑤ Kleurenselectie → ⑥ Kunstmatig picken ( 1e keer) → ⑦ Zuiveren verwijderen van onzuiverheid → ⑧ Ontstoener verwijderen steen → ⑨ Elektrostatische haarscheiding → ⑩ Kunstmatige picking ( 2de keer, via een kunstmatig orderpickplatform → ⑪ Röntgenapparaat → ⑫ Ultraviolet sterilisatie → ⑬ Volledig automatisch pakket (binnenverpakking) → ⑭ Outer packing workshop (buitenverpakking) → ⑮ Inspectie (proportionele bemonstering ) → ⑯ Warehousing → ⑰ labelen → ⑱ Te verkopen na inspectie goedgekeurd ( Secundaire bemonstering)
Goji bessen gedroogd fruit
Verpakking en verzending exporteren
Binnenverpakking: 5kg / aluminiumfolie zak buitenste verpakking: 20kg / doos grootte: 51x37x29cm
Fabriekslevertijd: na aanbetaling 12 werkdagen
CIO-certificaat: KWALITEIT & HOEVEELHEID & GEWICHT CERTIFICAAT, FYTOSANTISCH CERTIFICAAT, SANITAIR CERTIFICAAT, GEZONDHEIDSCERTIFICAAT
Vertrekhaven: haven van Tianjin of haven van Qingdao
Laden: 11,5 Ton / 1 * 20 GP-container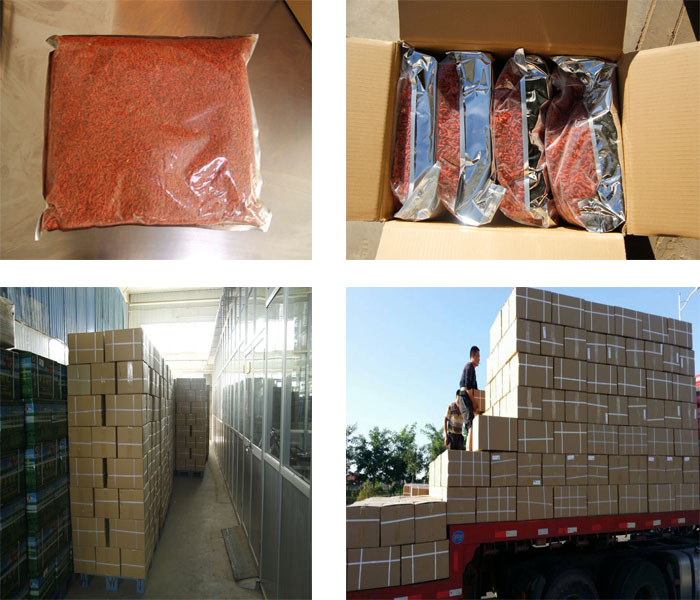 VRAAG: Productie en bezorgen
ANTWOORD: Na storting, goji bessen aan te leveren aan de 1e fase (productie, verpakking, in de fabriek te inspecteren, etc), vervolgens 2 e fase is CIQ is geïnspecteerd en CIQ certificaat doorlooptijd één week (7 dagen), 3e fase arrenge we lading zending naar de vertrekhaven. Vaartijd doorlooptijd per bestemming poort in verschillende landen (zoals Noord-amerika lijn, Zuid-amerika Lijn, EMP, Azië, Australië, etc)
Product Categorie : Rode Goji-bessen > Gedroogde Goji-bessen