Verrukkelijke gedroogde Goji-bessen kunnen veel gezondheidsvoordelen bieden. De beste manier om de unieke smaak hiervan te ervaren
gedroogde bessen is om ze zelf te proeven. Typisch is de smaak beschreven als een mengsel van cranberry- en kersensmaken.
Je kunt Goji-bessen op dezelfde manier gebruiken als je zou rozijnen. Ze kunnen worden toegevoegd aan gebakken goederen, besprenkeld
op een salade, geroerd in havermout of ontbijtgranen, toegevoegd aan je favoriete trailmix-recept of gewoon genoten van de ene hand na de andere
als een gezonde snack. Het weken van gedroogde bessen in heet water rehydrateert ze. Eenmaal opnieuw gehydrateerd, lijkt hun smaak meer op
een zoete kersentomaat. Gehydrateerde bessen kunnen worden toegevoegd aan smoothies, sauzen en saladedressings.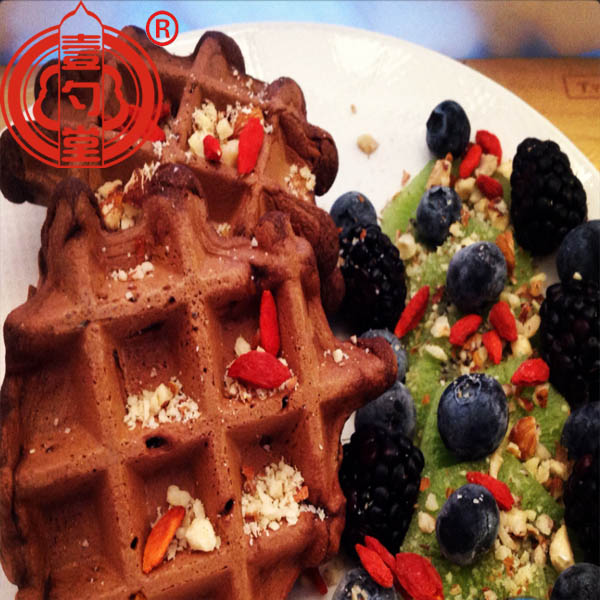 Productnaam: G oji bessen Grade: A Grade
Grootte: 180 ~ 1000 Gr Ains / 50G Kleur: Dik rood
Kenmerken : Medicinaal, eetbaar en gezonde waarde Droogtype: Lage luchtdroging
Max. Vocht (%): 13% Opslag: Droge en koele plaats
Houdbaarheid: 2 jaar Merknaam: Yishaotang
Certificering: QS, BCS Organisch certificaat Teelttype: algemeen
Teelttype: Open Air Verwante producten: Conventionele goji-bes Organische goji-bes
Processtroomschema voor Super Food Nutrition Gedroogde Goji-bessen
① Grondstoffenbronnen ( volgens gestandaardiseerde planten Goji-bes in eigen basis → Plukken → Drogen ) → ②R aw
materiaalacceptatie [ Key control points ] → ③ Drogen → ④ Sorteersortering → ⑤ Kleurselectie → ⑥ Kunstmatige picking ( 1e keer)
→ ⑦ Ziften verwijderen onzuiverheid → ⑧ Ontstoener verwijderen steen → ⑨ Elektrostatische haarscheiding → ⑩ Kunstmatig plukken
( 2de keer, via een kunstmatig orderverzamelplatform → ⑪ Röntgenapparaat → ⑫ Ultraviolette sterilisatie → ⑬ Volledig automatisch pakket (binnenverpakking)
→ ⑭ Outer packing workshop (buitenverpakking) → ⑮ Inspectie (proportionele bemonstering ) → ⑯ Warehousing → ⑰ labeling →
⑱ Te verkopen na inspectie goedgekeurd ( Secundaire monsterneming)
Superfoodvoeding Gedroogde Goji-bessen
Verpakking en verzending exporteren
Binnenverpakking: 5kg / aluminiumfolie zak buitenste verpakking: 20kg / doos grootte: 51x37x29cm
Fabriekslevertijd: na aanbetaling 12 werkdagen
CIO-certificaat: FYTOSANTISCH CERTIFICAAT, SANITAIR CERTIFICAAT OF GEZONDHEIDSCERTIFICAAT
Vertrekhaven: haven van Tianjin of haven van Qingdao
Laden: 11,5 Ton / 1 * 20 GP-container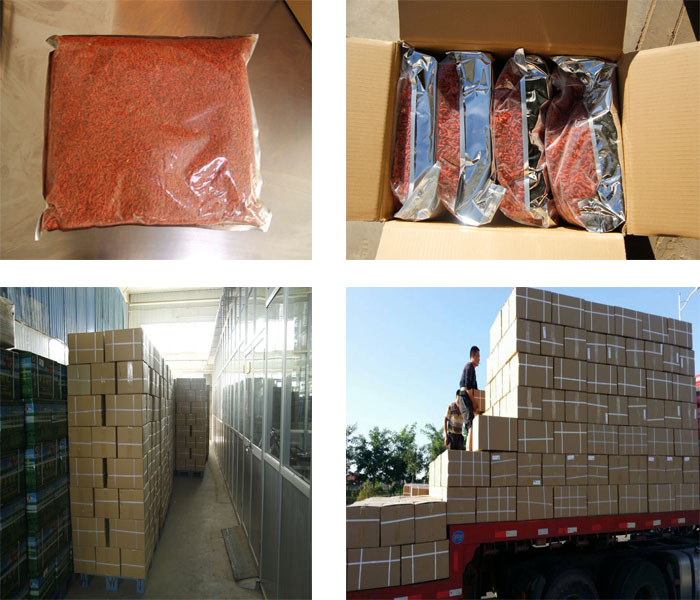 VRAAG: Productie en bezorgen
ANTWOORD: Na storting gaat de gojibes om de eerste fase binnen (productie, verpakking, fabrieksinspectie, enz.), En de tweede fase is
CIQ is geïnspecteerd en CIQ certificaat doorlooptijd één week (7 dagen), 3e fase arrenge we vracht verscheping naar vertrekhaven.
Vaartijd doorlooptijd per bestemming poort in verschillende landen (zoals Noord-amerika lijn, Zuid-amerika Lijn, EMP, Azië, Australië, etc)
Product Categorie : Rode Goji-bessen > Gedroogde Goji-bessen