Waarom steeds meer voedingsmiddelendealers goji-bessen kopen omdat ze de waarde van de importgezondheid voor Goji-bessen kennen
1. Beschermt de lever - minder vermoeidheid
2. Helpt gezichtsvermogen - ondersteunt nierfunctie
3. Verhoogt metabolische activiteit - verbrandt vet en bevordert de spijsvertering
4. Verbetert de immuunfunctie - Lymfocyten, Interleukine 2, Immunoglobuline
5. Verbetert de bloedsomloop - ondersteunt de verdeling van voedingsstoffen en energieniveau's van hoge kwaliteit
6. Bevordert een lang leven - brengt levensondersteuning aan het bloed en alle interne organen
7. Rijk aan fytonutriënten, antioxidanten, met name carotenoïden zoals bèta-caroteen en zeaxanthine.
8.Teststudies tonen aan dat Goji-bessen de groei van kankercellen kunnen voorkomen, bloedglucose verlagen,
en lagere cholesterolwaarden.
9.Goji heeft unieke bioactieve polysacchariden (LBP) - belangrijke markers voor het opbouwen van immuunrespons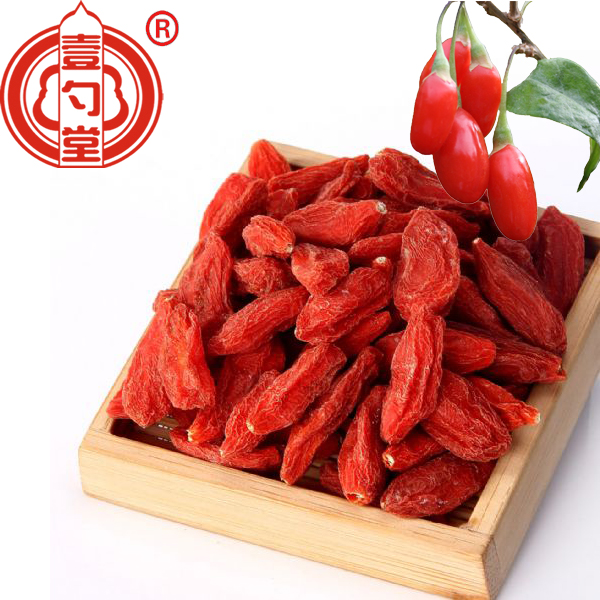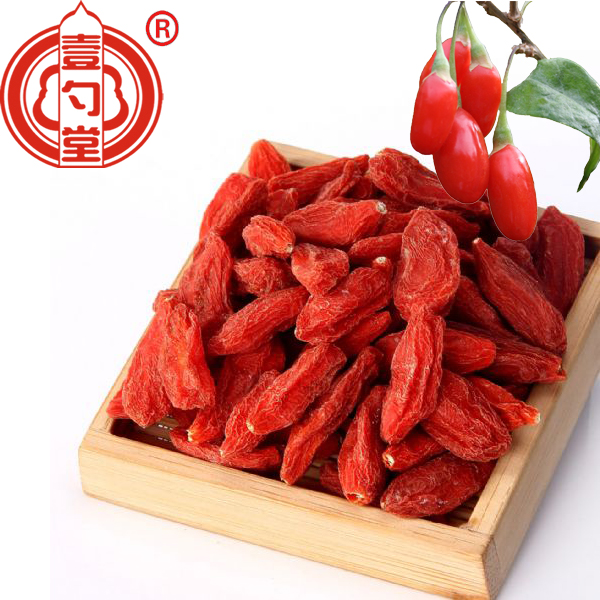 Productnaam: Goji-bessen Grade: A Grade
Grootte: 180 ~ 1000 Grains / 50G Kleur: Dik rood
Kenmerken: Medicinaal, eetbaar en gezonde waarde Droogtype: Lage luchtdroging
Max. Vocht (%): 13% Opslag: Droge en koele plaats
Houdbaarheid: 2 jaar Merknaam: Yishaotang
Certificering: QS, BCS Organisch certificaat Teelttype: algemeen
Teelttype: Open Air Gerelateerde producten: conventionele / biologische goji-bes
Processtroomschema voor Super Food Nutrition Gedroogde Goji-bessen
①Onze materiële hulpbronnen (volgens gestandaardiseerde planten Goji-bes in eigen basis → Plukken → Drogen) → ②Raw
materiaalacceptatie [Key control points] → ③ Drogen → ④ Grade Sorting → ⑤ Kleurselectie → ⑥ Kunstmatige picking (1e keer)
→ ⑦ Ziften verwijderen onzuiverheid → ⑧ Verwijderen-steen verwijderen → ⑨ Elektrostatisch scheiden van haar → ⑩Kunststofplukken
(2e keer, via een kunstmatig orderverzamelplatform → ⑪ Röntgenapparaat → ⑫ Ultraviolette sterilisatie → ⑬ Volledig automatisch pakket (binnenverpakking)
→ ⑭Overige verpakkingsworkshop (buitenverpakking) → ⑮Inspectie (proportionele bemonstering) → ⑯Wisselen → ⑰ labelen →
⑱ Te verkopen na inspectie goedgekeurd (Secundaire monsterneming)
Superfoodvoeding Gedroogde Goji-bessen
Verpakking en verzending exporteren
Binnenverpakking: 5kg / aluminiumfolie zak buitenste verpakking: 20kg / doos grootte: 51x37x29cm
Fabriekslevertijd: na aanbetaling 12 werkdagen
CIO-certificaat: FYTOSANTISCH CERTIFICAAT, SANITAIR CERTIFICAAT OF GEZONDHEIDSCERTIFICAAT
Vertrekhaven: haven van Tianjin of haven van Qingdao
Laden: 11,5 Ton / 1 * 20 GP-container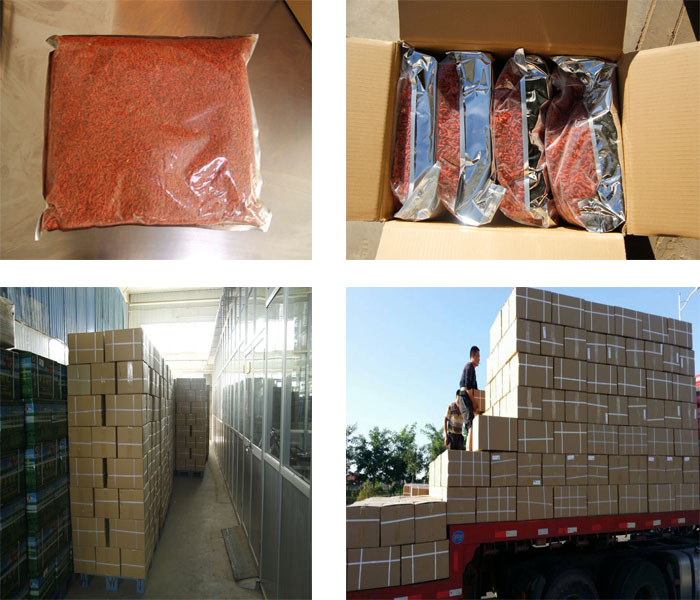 VRAAG: Productie en bezorgen
ANTWOORD: Na storting gaat de goji-bessenorde de 1e fase binnen (productie, verpakking, fabrieksinspectie, enz.), Daarna is de tweede fase
CIQ-inspectie en schriftelijke CIQ-certificaat doorlooptijd één week (7 dagen), derde fase we komen vrachtzending aan in de vertrekhaven.
Vaartijd doorlooptijd per bestemming poort in verschillende landen (zoals Noord-amerika lijn, Zuid-amerika Lijn, EMP, Azië, Australië, etc)
Product Categorie : Rode Goji-bessen > Gedroogde Goji-bessen